CORROSION-RESISTANT CHEMICAL PUMPS
MAGNETIC PUMPS OR SEALED PUMPS?
COMPARING MAGNETIC DRIVE PUMPS AND MECHANICALLY SEALED PUMPS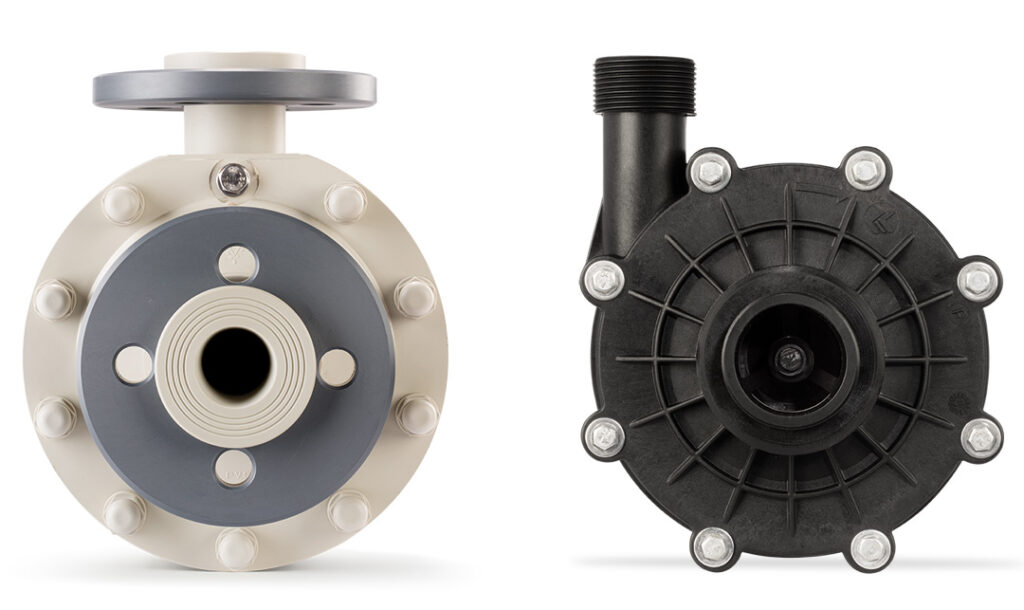 The choice between horizontal pumps with a mechanical seal and pumps with a magnetic drive is often conditioned by unjustified conventions or by passing "trends", rather than being guided by actual systems engineering reasons. The adoption of one pump over another often conceals misguided technical prejudices. For example, those who prefer pumps with magnetic coupling often take it for granted that the seal system is not as safe as the magnetic drive. But if it is true that a mechanical seal is more likely to leak, it is also true that the supposed tightness of opposing magnets can become a problem in some applications.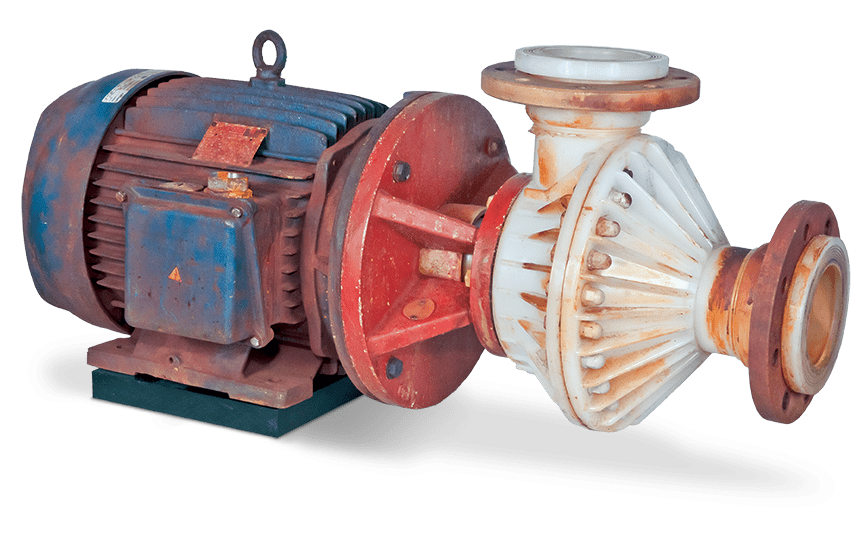 OMA SERIES FOR ALL CORROSIVE LIQUIDS
OMA pumps are fitted with a mechanical seal manufactured exclusively by Savino Barbera. This special seal has no metal parts in contact with the liquid and is corrosion-resistant. Consisting of just a few elements (faces, bellows, spring), it is completely adjustment-free (it has no screws, locking nuts or covers) and makes assembly and maintenance operations easy, even after years of operation, with no need for special skills or tools. Pictured: PVDF OMA100 pump for ferric chloride and hydrochloric acid. Application: surface treatment of metals.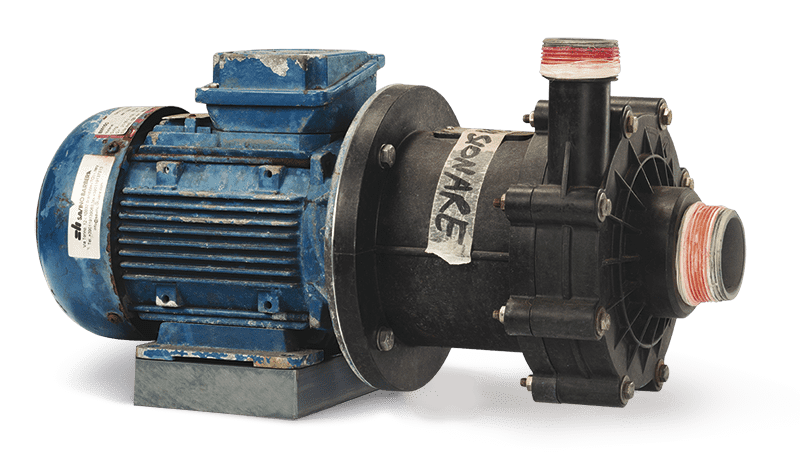 MD/BM SERIES FOR LIQUIDS WITHOUT SOLIDS
MD and BM mag-drive pumps are characterised by closed impellers and incapsulated magnetic couplings. They are not suitable for liquids with impurities, metal suspensions, hot liquids, over-saturated liquids or abrasive liquids. Magnetic pumps are usually considered to be hermetically sealed. Zero leakages are obviously the forbidden dream of every user, but their presumed tightness must be scrupulously evaluated in relation to the specific operating conditions. Pictured: PP BM15 pump for transferring toxic hazardous substances. Application: filling/emptying tankers.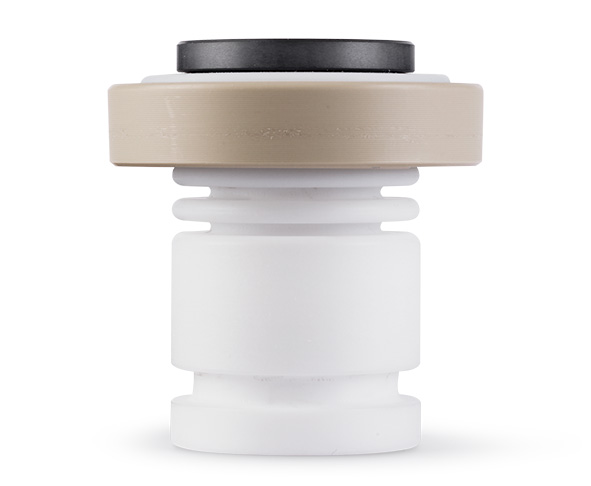 The mechanical seal prevents the liquid from escaping from the hole through which the shaft enters the pump casing. It consists of a rotating part, attached to the shaft, and a static part, attached to the pump casing. These two parts are in contact via the faces of the seal rings. The static and dynamic rings have contact surfaces with a very high finish so that they can slide against each other without allowing the liquid to escape. A very thin layer of liquid is created between the two surfaces, lubricating the rings and improving the seal. Mechanically sealed horizontal pumps are machines that can work with chemical liquids that are full of solid suspensions. They are cheap and easy to maintain. This type of plastic pump is the most common and widely used.
No metal adjustment mechanisms
Can be used in all industrial sectors
Fully corrosion-resistant
Quick and economical to maintain
Can leak into the external environment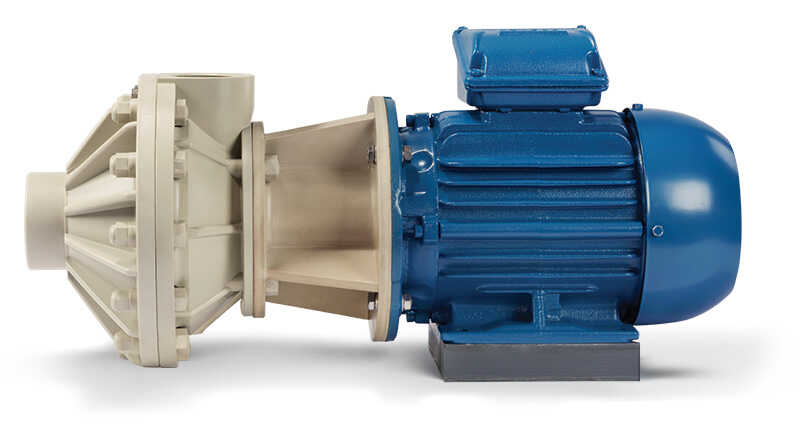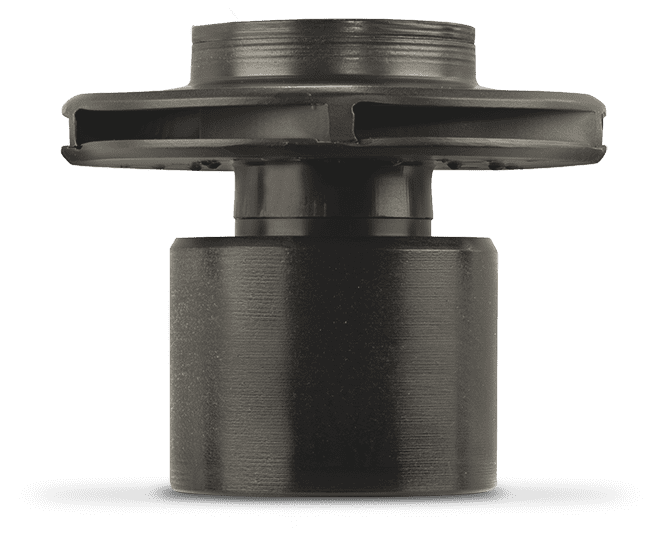 Magnetic drive pumps
are characterised by a magnetic coupling divided into two parts: the first part is keyed to the motor shaft while the second is attached to the impeller. The magnetic semi-coupling connected to the motor drives the impeller semi-coupling. There is no contact between these two parts: a containment tank (attached to the pump casing and therefore not rotating), which isolates the liquid pumped from the atmosphere, is inserted in this area. The main advantage of mag-drive pumps is that they are virtually free of external leaks, but their use requires particular attention to operating conditions: for example, the liquid must be clean. Moreover, the magnetic drive pump can be more expensive in terms of maintenance.
No external leaks (hermetic design)
Pumping of extremely hazardous liquids
More complex and expensive maintenance
For clean liquids with no metal suspensions
Thin plastic coating on the magnets
Plastic-coated parts (not machined from solid block)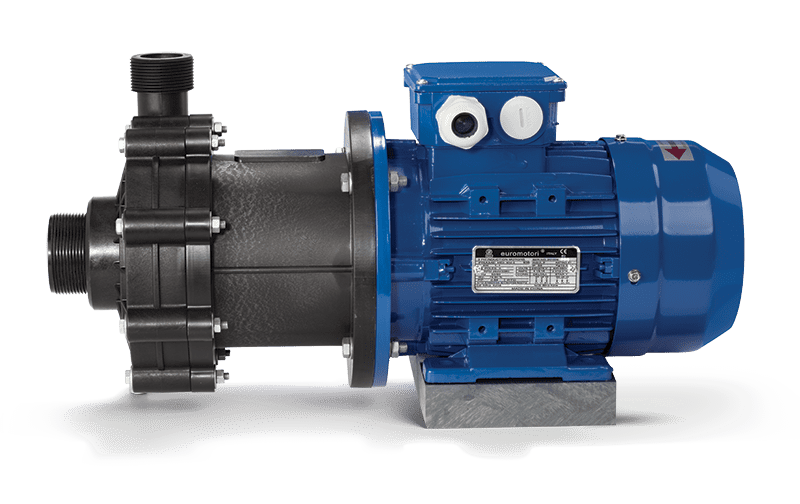 CHEMICALLY-RESISTANT PUMPS AND MIXERS