PUMPS FOR POTENTIALLY EXPLOSIVE AREAS
CHEMICAL PUMPS WITH ATEX CERTIFICATION
Savino Barbera chemical pumps with ATEX Approval, suitable for safe operation in potentially explosive atmospheres, come in three different types: magnetic drive pumps (electric centrifugal pumps), double diaphragm pumps (air driven pneumatic pumps) and drum pumps (electric centrifugal pumps). Apart from these specific models, all other Savino Barbera pumps can be equipped with explosion-proof motors compliant with ATEX standards (where only the motor is ATEX approved).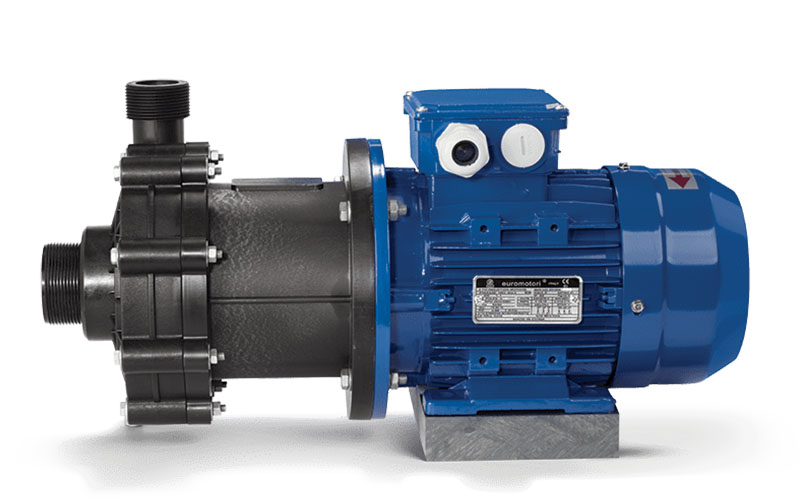 ---
Centrifugal pumps with magnetic drive. Materials compatible with ATEX Certification: plastic (PP, PVDF) and metal (AISI 316).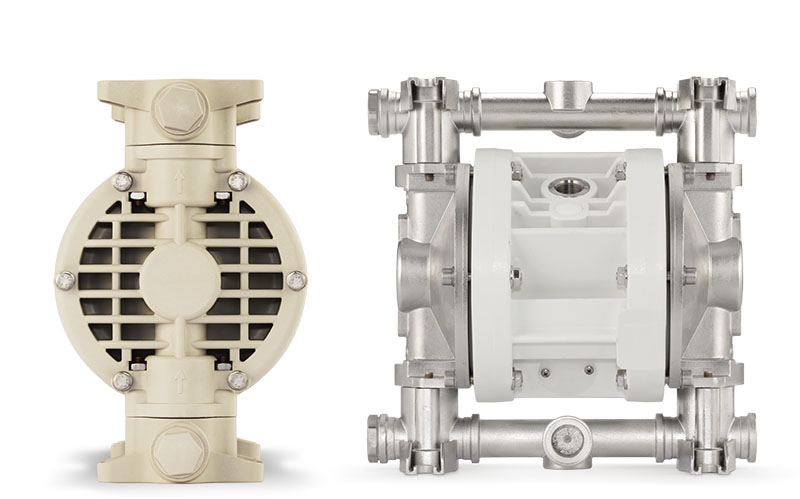 ---
Pneumatically driven volumetric pumps. Materials compatible with ATEX Certification: plastic (PP, PVDF) and metal (AISI 316, Aluminium).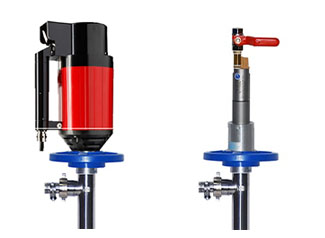 ---
Electric or pneumatic centrifugal drum and container pumps. Material compatible with ATEX Certification: metal (AISI 316).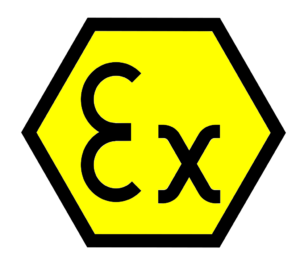 THE TWO EUROPEAN ATEX DIRECTIVES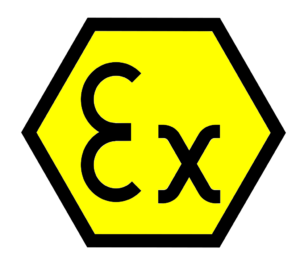 The European Union has implemented two specific directives on the subject of health and safety in potentially explosive atmospheres:
ATEX 99/92/CE Directive
(also ATEX 137 now ATEX 153), which establishes the minimum requirements for health and safety of workplaces characterised by potentially explosive atmospheres. In particular, the directive subdivides certain "zones" depending on the existence of "explosive atmosphere" and specifies the criteria according to which industrial products can be used within these zones.
2014/34/UE Directive
Directive 2014/34/EU (also ATEX 114), which requires the manufacturers of such equipment to certify all their products (including pumps) installed in places where there is an explosion risk. This directive was implemented in Italy by Legislative Decree 85 of 19 May 2016 and applies to products released onto the market or in service from 20 April 2016.
ATEX Classifications: products, classes, groups, areas, zones
In short, the greatest danger referred to the use of machinery is that it could be impacted by an intrinsic source of ignition: obviously, this danger is linked to certain operating conditions that may be created as a result of the presence of certain substances or particular products. The ATEX regulation strictly classifies products, zones, sectors and areas according to a scale of varying danger, establishing that electrical or mechanical materials used in areas where there is an explosion risk must be designed and built in such a way as to eliminate or prevent the creation of dangerous triggers capable of igniting these mixtures. The ATEX Directive distinguishes the risk depending on the nature of the explosive product (Gas Group or Dust Group) and its ignition temperature (Class). The basic purpose of the ATEX Directive is, therefore, the prevention of explosion hazards caused by certain phenomena which might unintentionally occur in industrial environments, such as: electrical or mechanical sparks, electrostatic charges, flames or hot gases, electromagnetic waves, superheated surfaces, optical radiation, chemical triggers, lightning. So, when working in these conditions, pumps also require this type of approval (ATEX Certification).
What is meant by "explosive atmospheres"
Please remember that the term "explosive atmosphere" refers to a mixture of flammable substances (gases/vapours or dusts) and oxidising substances (e.g., air) which, in certain proportions and in the presence of a trigger, may generate combustion or an explosion. If the pumps are used in these types of atmosphere, they are classified, as industrial machinery, in groups and categories on the basis of the degree of protection offered. It is very important to remember that the end user is responsible for classifying his area of use to allow the manufacturer to select the correct ATEX certified pump model. It is the manufacturer's responsibility, on the other hand, to identify and apply the certification class of the equipment manufactured.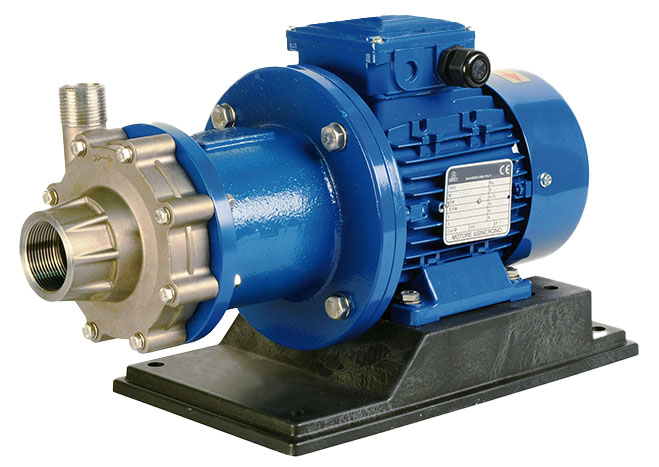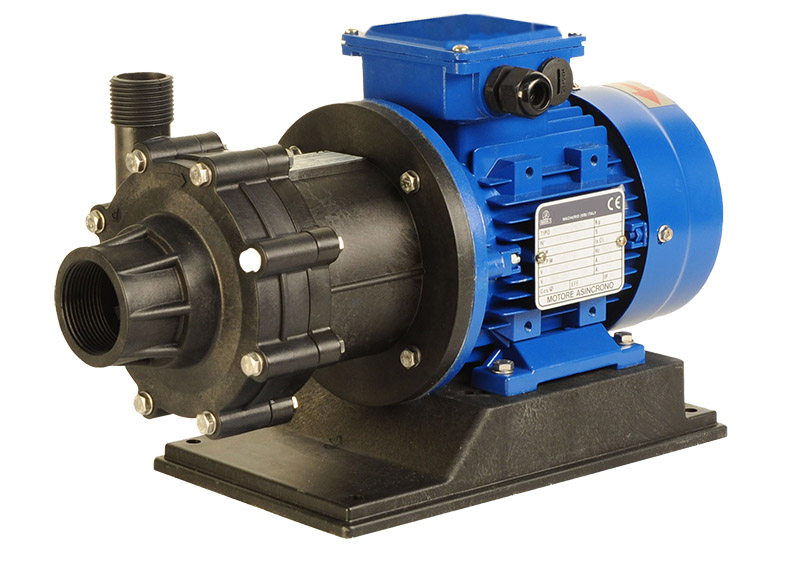 ATEX rated magnetic pumps. BM Series magnetic drive centrifugal pumps are suitable for use in ATEX Zone 2 (both plastic and metal versions) and Zone 1 (metal version only). The materials in contact with the liquid are: corrosion-resistant plastic (PP, PVDF) and metal (AISI 316). Plastic version: maximum flow rate of 135 m³/h and maximum head of 48 m w.c. Metal version: maximum flow rate of 32 m³/h and maximum head of 24 m w.c.
Zone 2 Certification: II 3G Ex c T6 (pumps), II 3G Ex d IIB T4 (motors).
Zone 1 Certification: II 2G Ex c T6 (pumps), II 2G Ex d IIB T4 (motors).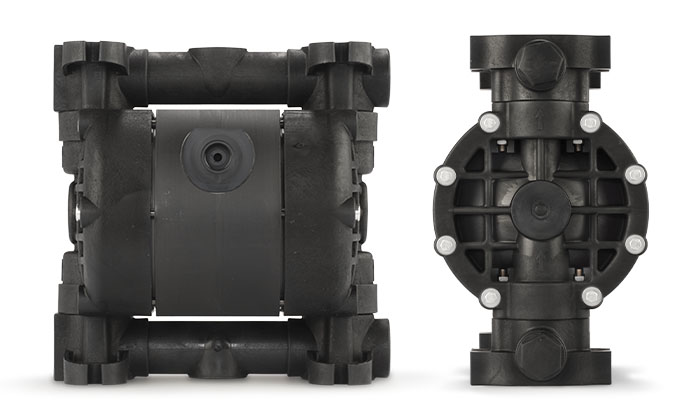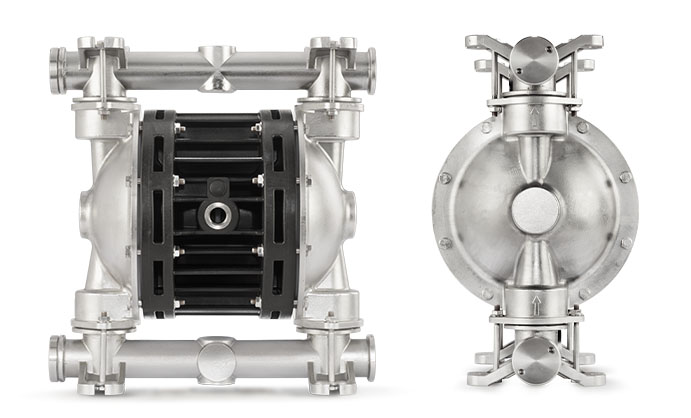 ATEX rated air driven double diaphragm pumps. Standard material for all models: non-conductive thermoplastic and metal (ATEX Zone 2 version). Special "Conduct" series by request: pumps made of metal or conductive plastic material filled with carbon fibre (ATEX Certification for use in Zone 1). Maximum flow rate of 800 l/min and maximum head of 8 bar.
Standard Version: Certification for Zone 2 II 3/3 GD c IIB T4(135°C).
Conduct Version: Certification for Zone 1 II 2/2 GD c IIB T4(135°C).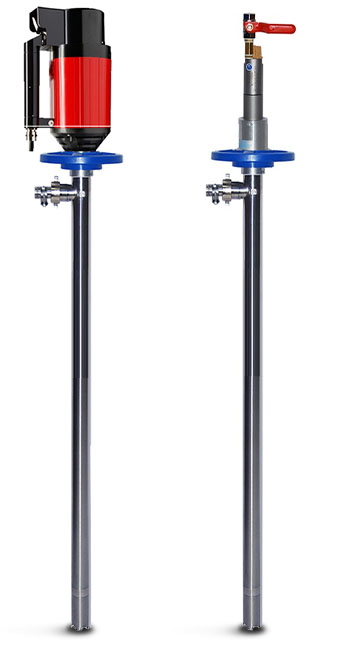 ATEX rated drum and container pumps. For use in areas classified as explosive, the only model available is the AISI 316 metal version of the TR JP (both with electrical motor and with air-operated motor). Remember that, in potentially explosive environments, the air that drives these pneumatic pumps must always have a maximum temperature compliant with Atex limits (temperature ranging from -20°C to +40°C max). TR JP drum and barrel pumps have a maximum flow-rate of 110 l/min and a maximum head of 37 m w.c.
Suction pipe marking: Ex II 1/2G c IIB T4
Electric motor marking: Ex 2G Ex db IIC T6 Gb
Pneumatic motor marking: Ex 2GD Ex c IIC T6 (80°C) X
ATEX PUMPS AND FLAMMABLE LIQUIDS
Some flammable liquids that typically require pumps with ATEX approval: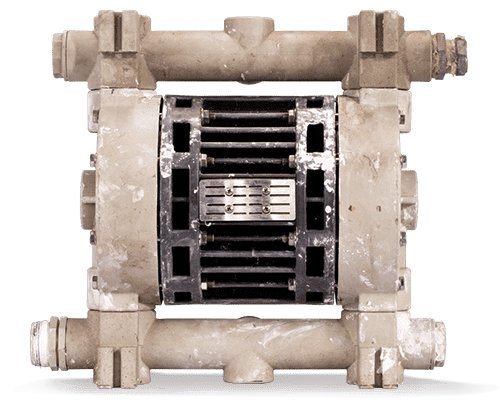 Acetone
Ethanol
Methanol
Isopropanol
Butanol
Lubricant oils
Fuel oils
Edible oils
Exhaust oils
Diathermic oils
Petrol
Diesel
Biodiesel
Kerosene
Naphtha
Paint thinners
Benzene
Toluene
Hexane
Acetylene
Ethyl acetate
Ethylene
Butylene
Butyl acetate
CHEMICAL PUMP AND ATEX MARKINGS
Understanding the ATEX marking of a machine can be complex, especially for non-professionals. Details of the meanings attributed to the individual components of the ATEX markings found in Savino Barbera technical documentation and on the plates of our pumps, are shown below: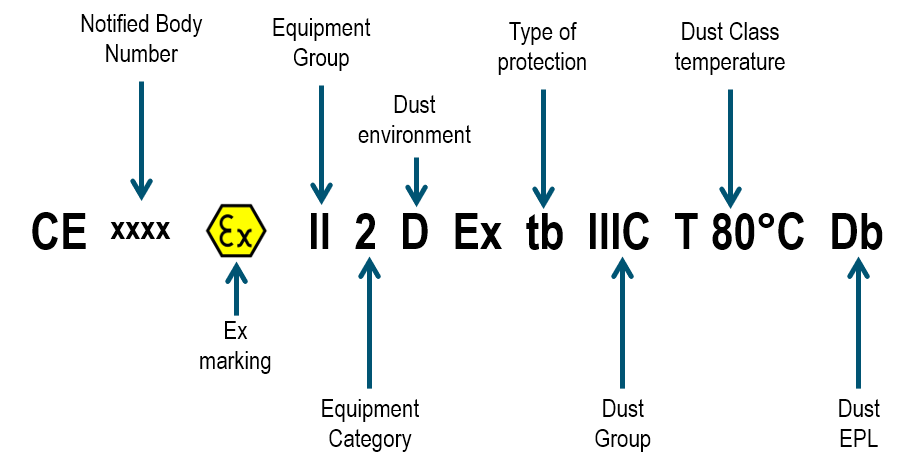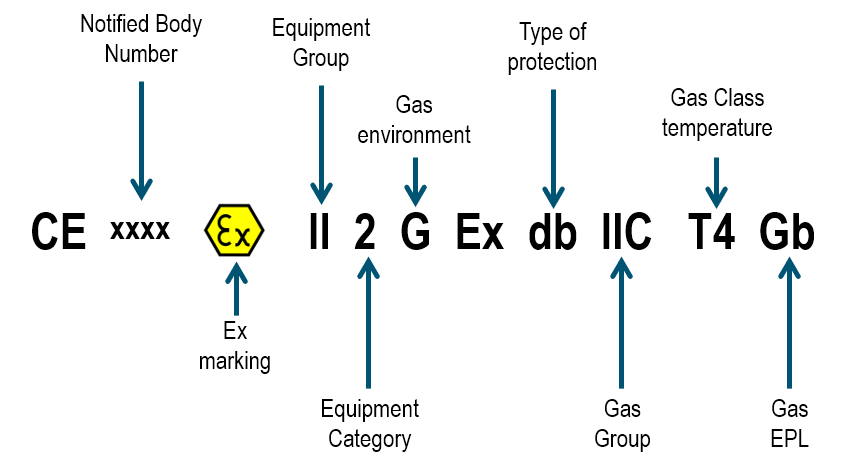 CHEMICAL PUMPS WITH ATEX MOTORS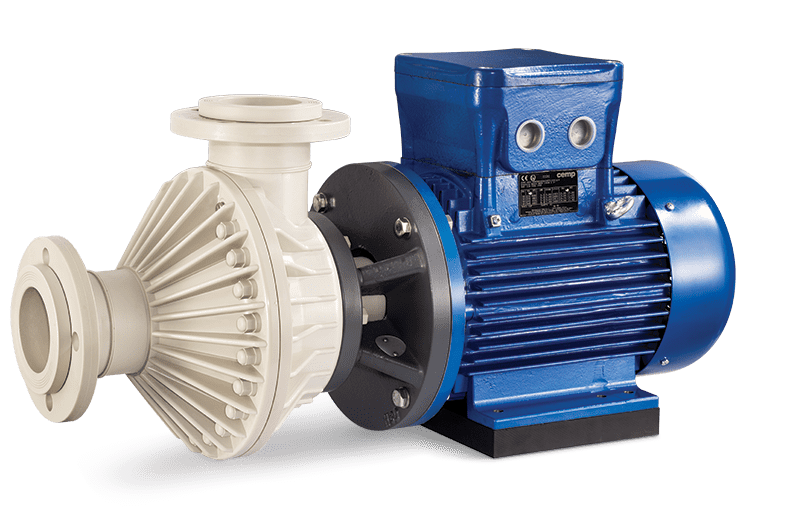 Savino Barbera chemical pumps can always be fitted with explosion-proof motors. In this case, only the motors, which are explosion-proof in compliance with IEC EN 60079-0, 60079-1, 60079-7 (for atmospheres characterised by the presence of gas) and IEC EN 61241-0, 61241-1 (for environments characterised by the presence of combustible dust), have ATEX Certification. They are usually identified by the code II2G Ex-d IIB T4, i.e.:
2G: version for gas (but they are also available for dust).
Ex-d: protection method d (explosion-proof casing).
IIB: casing group (only hydrogen, acetylene, ethyl nitrate and carbon disulphide are excluded).
T4: maximum surface temperature 135°C.
Our explosion-proof motors can always be customised with regard to the following: supply voltages and frequencies, tropical climates or low temperatures, increased insulation classes, presence of PTC or thermistors, presence of anti-condensation resistors, special terminal boxes (also with cable gland), increased protection.
LATEST ATEX PUMPS SUPPLIES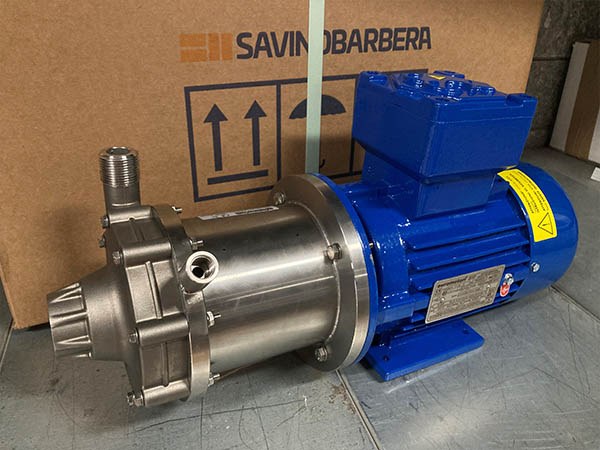 PUMPING SILICONE AND ALCOHOL
Metallic mag drive pump for use with a mixture of flammable and volatile liquids. ATEX certified for Zone 1.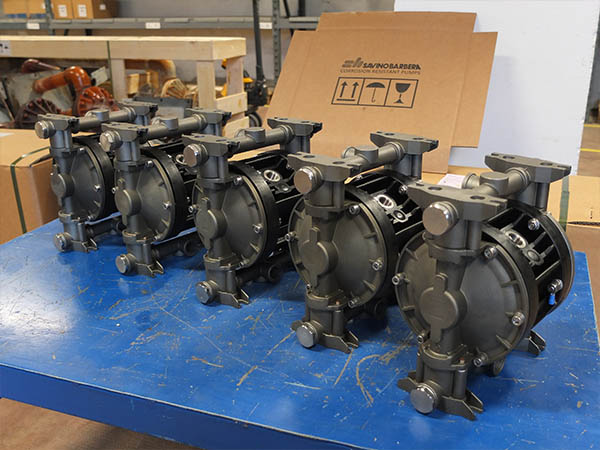 EXPLOSION PROOF PUMPS
Explosion-proof AOOD pumps made in stainless steel for transferring a solution of water and fuel residues.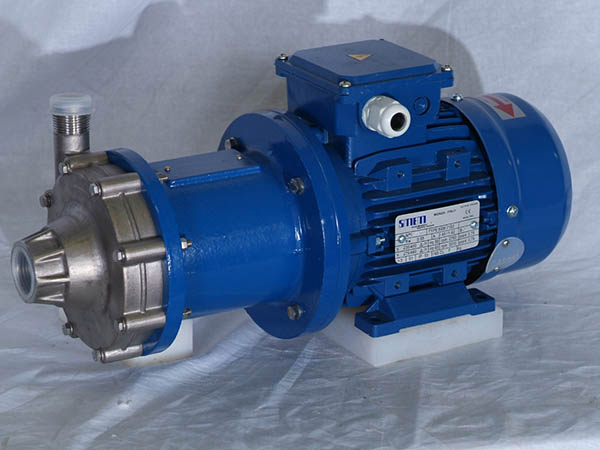 ATEX MAGNETIC PUMPS FOR ZONE 2
Magnetic chemical pump suitable for ATEX Zone 2. For pumping diathermic oil with temperature of 60°C.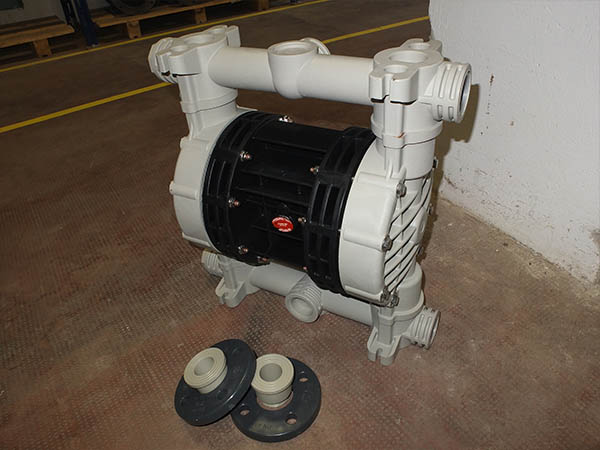 PUMPING ACETONE E METHANOL
ATEX rated AODD pump to be used in a pontentially explosive environment (Zone 2 with acetone e methanol).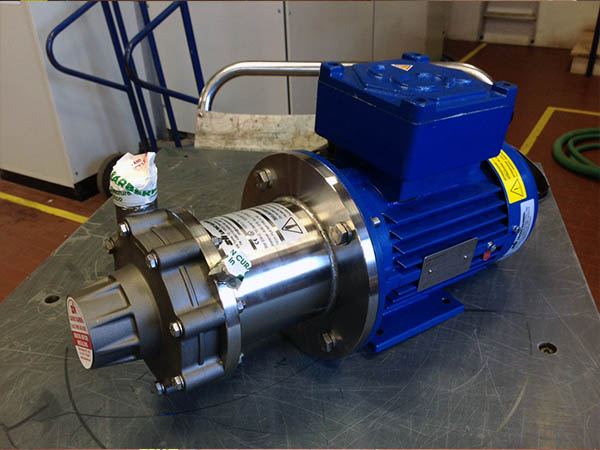 MAG DRIVE PUMPS FOR SOLVENTS
Explosion-proof magnetic driven pump for use with hazardous liquids (solvents and isodecane) in Zone 1.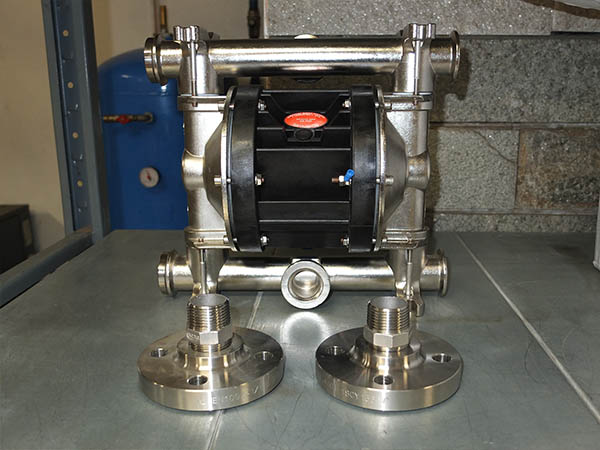 FOR HANDLING GASOLINE
Air-operated diaphragm pump ATEX certified for handling gasoline in potentially explosive atmospheres.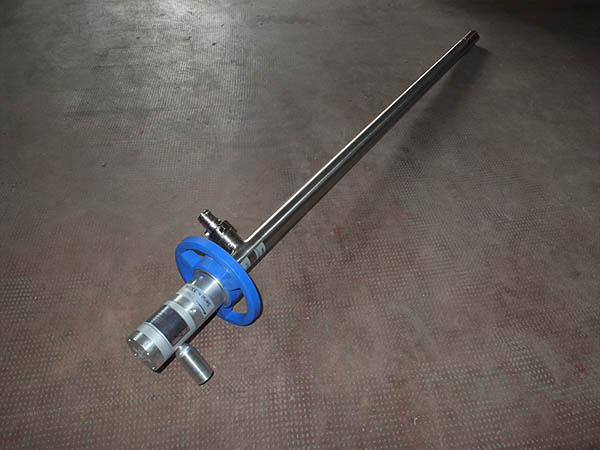 FLAMMABLE LIQUIDS PUMP
Explosion-proof centrifugal barrel pump for for transferring high flammable liquids (toluene, in this case).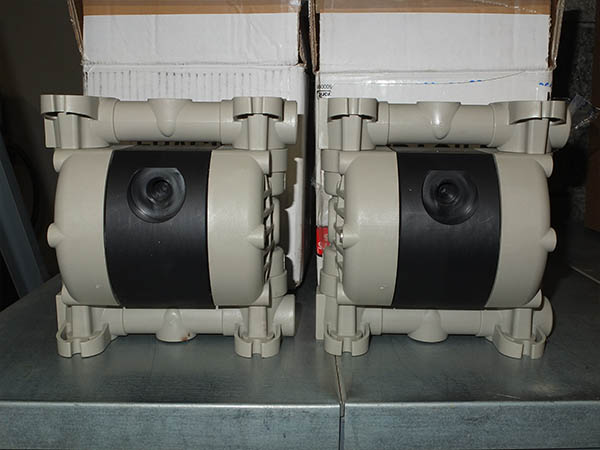 ATEX RATED PNEUMATIC PUMPS
ATEX rated industrial chemical double diaphragm pumps for butanol, isopropanol and and ethanol.