CORROSION-RESISTANT PUMPS AND MIXERS
THE SAVINO BARBERA PUMP DESIGN AVOIDS HAVING METAL COMPONENTS IN FLUID CONTACT

When handling hazardous fluids or industrial liquids, the main hazard is usually corrosion. This is why we have replaced metal with plastic and protected the few components that have to be made of metal (for obvious reasons relating to mechanical support) with chemically inert material: all the wetted parts of our pumps and mixers are made entirely of thermoplastics or coated with technical polymers, making them insensitive to chemical aggression. The main corrosion-resistant plastics that we use to manufacture our industrial equipment are PP, PVC and PVDF.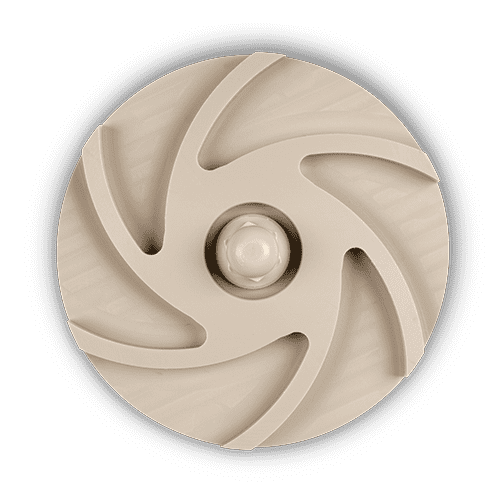 Thermoplastic polymer which offers good resistance to most acid and alkaline solutions. Characterised by valid mechanical properties and high resistance to chemical agents, this plastic material is widely used in the manufacture of industrial components: thanks to its extensive chemical compatibility, it is most likely the most widely used technical material in the construction of our pumps and mixers. It is not suitable for strongly oxidizing concentrated acids and for halogens (fluorine, chlorine, bromine, iodine). Maximum operating temperature: between 60 and 80°C.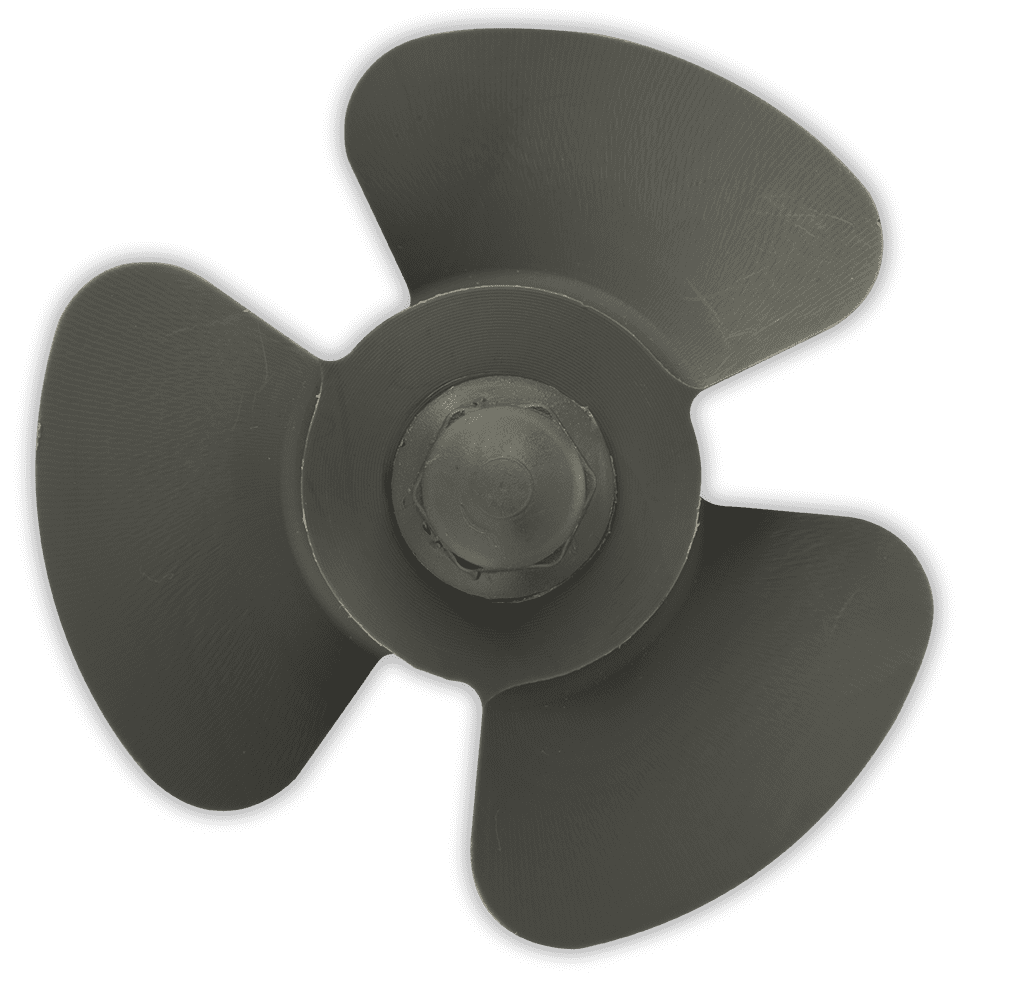 Savino Barbera is one of the few manufacturers in the world to supply a wide range of pumps and mixers made entirely of PVC, a plastic material with an excellent response to corrosion. PVC is very resistant to acids, bases, saline solutions and organic compounds: it is particularly suitable for sodium hypochlorite. It should not be used for aromatic and chlorinated hydrocarbons. Polyvinyl chloride has some limitations from a thermal point of view and at low temperatures it becomes fragile. The maximum operating temperature is usually 60°C. In some cases, however, it cannot exceed the limit of 40°C.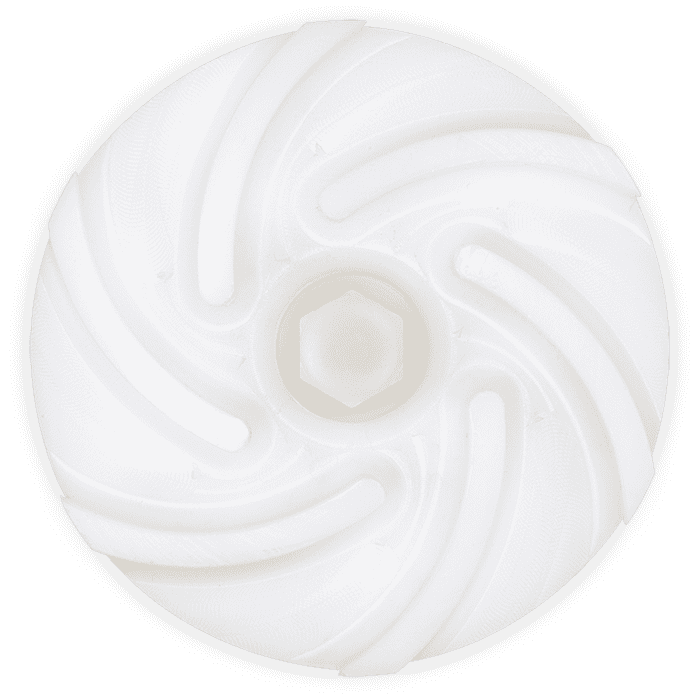 PVDF (POLYVINYLDENFLUORIDE)
PVDF is a high-performance fluorinated thermoplastic with a wide range of uses. It has exceptional resistance to acids, saline solutions, hydrocarbons, oxidising agents, alcohols and halogens. Suitable for the semiconductor industry and for highly concentrated acids. PVDF is not suitable for certain inorganic bases (such as caustic soda), for alkaline solutions, ketones, esters and ethers. Its maximum operating temperature cannot exceed 100°C.
RIGOROUS SELECTION OF MATERIALS

The plastic materials used in the construction of all our products are meticulously selected on the basis of the characteristics of the corrosive liquid treated. The ability to select the most appropriate thermoplastic material is one of Savino Barbera's main skills: our choice is always functional to the specific use that the equipment we produce is intended for. In order to determine which plastic is chemically compatible with the liquid to be pumped (PP, PVC or PVDF), it is necessary to have a precise idea of the chemical and physical characteristics of the liquid to be handled. Every plastic material has a different chemical compatibility with the various corrosive liquids. The fundamental data for selecting the material of the wetted parts of the pump (those that come into contact with the liquid) are: chemical nature, concentration, temperature, specific weight, possible presence of solids. A small example: different concentrations of the same acid may require different plastic materials.
KEY CHEMICAL APPLICATIONS
Chemical and petrochemical systems
Electroplating baths
Pickling, galvanisation
Metal wire treatment
Fume and odour control
Scrubbers and washing towers
Seawater treatment
Purification, demineralisation
Acid water neutralisation
Purification plants
Recovery of precious metals
Production of batteries and accumulators
Production of fertilisers
Industrial logistics of fluids
Wastewater pumping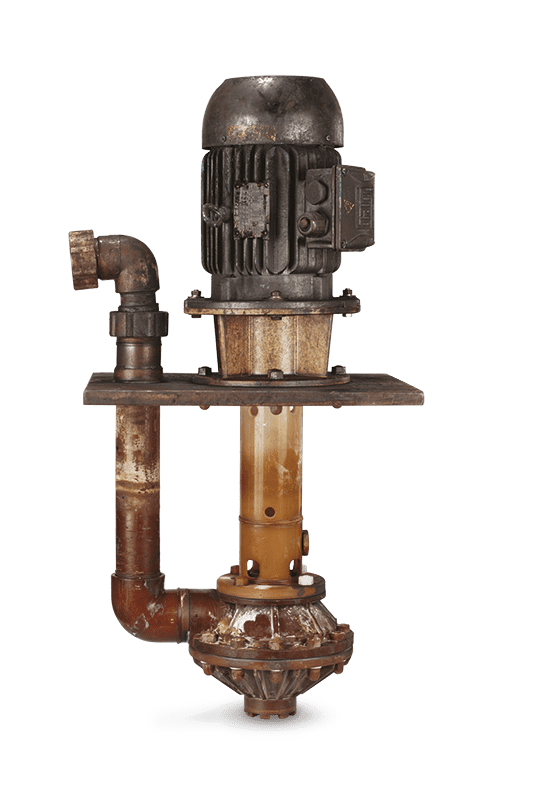 OTHER CONSTRUCTION MATERIALS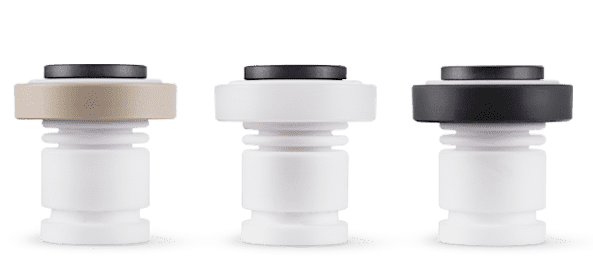 MECHANICAL SEAL: CERAMIC, SIC, PTFA, CARBOGRAPHITE
For all our horizontal pumps, we have designed and made a mechanical seal resistant to corrosion and abrasion (with no metal parts in contact with liquids). It is made up of just three elements: a plastic-coated spring, a bellows and two sliding rings. The spring of the seal is coated with PFA (a chemical-resistant fluoropolymer with low permeability) while the bellows are made of PTFE: both are chemically inert materials that withstand use with the most aggressive acids. Its seals are made of EPDM or FPM. The mating rings (static and dynamic ring) can be made of sintered ceramic, silicon carbide, filled-PTFE or Carbographite. The seal rings are available in these various combinations in order to meet different industrial pumping requirements. For these reasons, the Savino Barbera mechanical seal shows excellent tribological behaviour even in the presence of critical situations such as thermal expansion, risk of abrasion and shaft misalignment. Its modular design and ease of use allow its use not only with corrosive acids but also with slurries and abrasive liquids.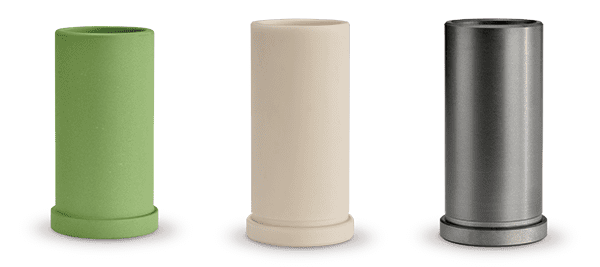 GUIDE BUSHINGS: PTFE, CERAMIC, SIC
The only guide element of
Savino Barbera vertical pumps
(including those in lengths of 3000 mm) is a pair of direct flushing end bushings positioned at the end of the pump shaft. The standard material used for the wear bushings is filled-PTFE, which is perfect for most industrial applications. Sliding bushings, however, are also available in versions that are suitable for liquids with sludge or solids: in this case, the technical materials are sintered ceramic and silicon carbide (SiC). Characterised by increased hardness, sintered ceramic is used in the case of slightly abrasive liquids or liquids with suspensions (it is not, however, recommended in the presence of hydrofluoric acid, hot caustic solutions or when there is a risk of thermal shock). Silicon Carbide (SiC) is a valid alternative to Ceramic, thanks to its resistance to wear and tear, its low expansion and friction coefficient and excellent thermal conductivity. SiC performs better in the presence of extreme temperature changes and guarantees a broad spectrum chemical compatibility (even with hot caustic solutions, hydrofluoric acid and hydrochloric acid).
DIAPHRAGMS: PLASTIC, RUBBER, PTFE
here are two pairs of diaphragms
inside the BX pneumatic pumps
and these are the elements subject to the greatest stress during suction and pumping (both at chemical and mechanical level). The possible anti-acid and wear-resistant configurations are: thermoplastic material (Hytrel, Santoprene), rubber (NBR, EPDM) or PTFE. The membranes are designed to redistribute the load, minimising the yielding of the material (the rubber version is fitted with a nylon reinforcement canvas to improve the response to stress). Hytrel diaphragms offer excellent resistance to fatigue under flexion and exceptional springback, even at high temperatures: they are ideal for many industrial chemicals, oils and solvents. NBR diaphragms are suitable for oils, petroleum-based fluids and abrasive liquids. EPDM diaphragms are very good for acids, alkalis or liquids with low temperatures. When pumping very hot or highly corrosive liquids, PTFE is used as an alternative material for one of the diaphragms only, to increase the resistance of the complete pair (in rubber or plastic).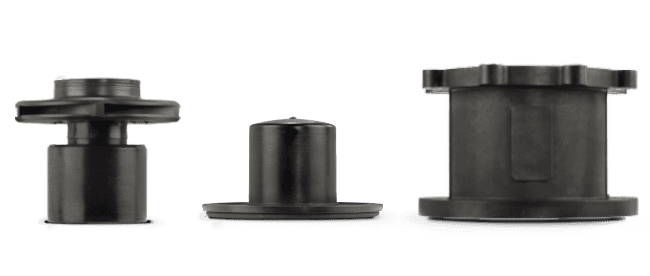 MAGNETS: NEODYMIUM IRON AND BORON PERMANENT MAGNETS
Savino Barbera mag-drive pumps are characterised by closed impellers and plastic-coated magnetic couplings. Pump construction materials: anti-acid plastic (PP and PVDF) and metal (AISI 316, HASTELLOY). Encapsulated magnetic materials: neodymium iron and boron permanent magnets (NeFeBo). Static shaft materials: Al2O3 99.7% (BM series plastic pumps), SiC – Al2O3 – RSSiC (DM70 plastic pumps) and Hastelloy C276 (metal pumps). Materials O-ring: EPDM or VITON. Sliding bushing materials: filled-PTFE, graphite. Please note that magnetic pumps are sensitive to harsh operating conditions. Their limitation continues to be the pumping of clean liquids, without suspended solids.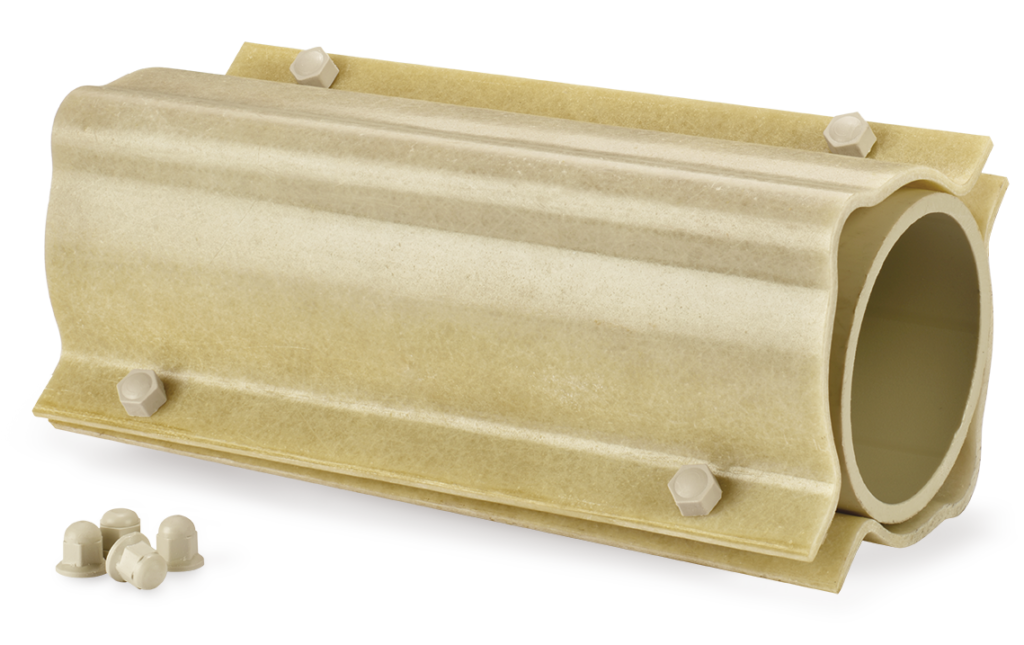 REINFORCEMENT IN FIBREGLASS
All AS series vertical pumps with sizes over 2000 mm are structurally reinforced by two opposing sections made of glass fibre-reinforced plastic (GFRP). In this type of chemical centrifugal pump, the thermoplastic support column is reinforced by a fibreglass structure that adds extra stability to the pumping unit. Fibreglass is a thermo-hardening compound material consisting of a glass-fibre reinforced polymer matrix and is universally known for its mechanical properties and chemical resistance. Thanks to its excellent qualities of lightness and strength, this external reinforcement made of fibreglass conveys the right solidity to our vertical pumps, which are able to work in perfect conditions, even with considerable lengths.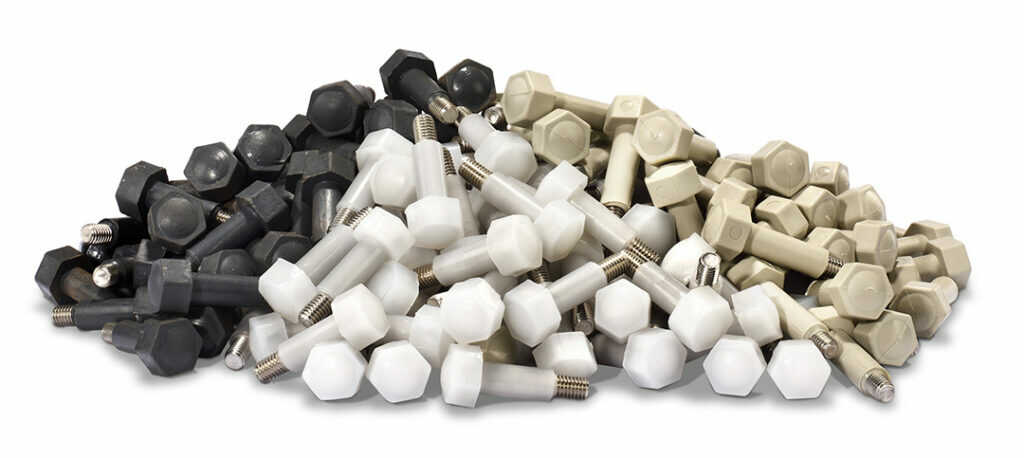 PLASTIC COATED NUTS AND BOLTS
The nuts and bolts used by Savino Barbera in its chemical pumps and industrial mixers have a moulded plastic coating (PP, PVC, PVDF). This anti-acid thermoplastic coating completely insulates the metal of the nuts and bolts from all contamination by acid liquids or vapours. The thermoplastic material is obviously selected on the basis of chemical compatibility with the corrosive liquids treated and is limited to surfaces not affected by the threaded coupling. If the nuts and bolts are immersed in the fluid being pumped, PTFE washers are required. The metal components of the nuts and bolts are made of stainless steel and brass: the alternating use of two different metals guarantees a steel/brass coupling that doesn't seize up or become stuck, simplifying disassembly over time.